The 2015 NYC POPFEST will take place from May 28th - May 31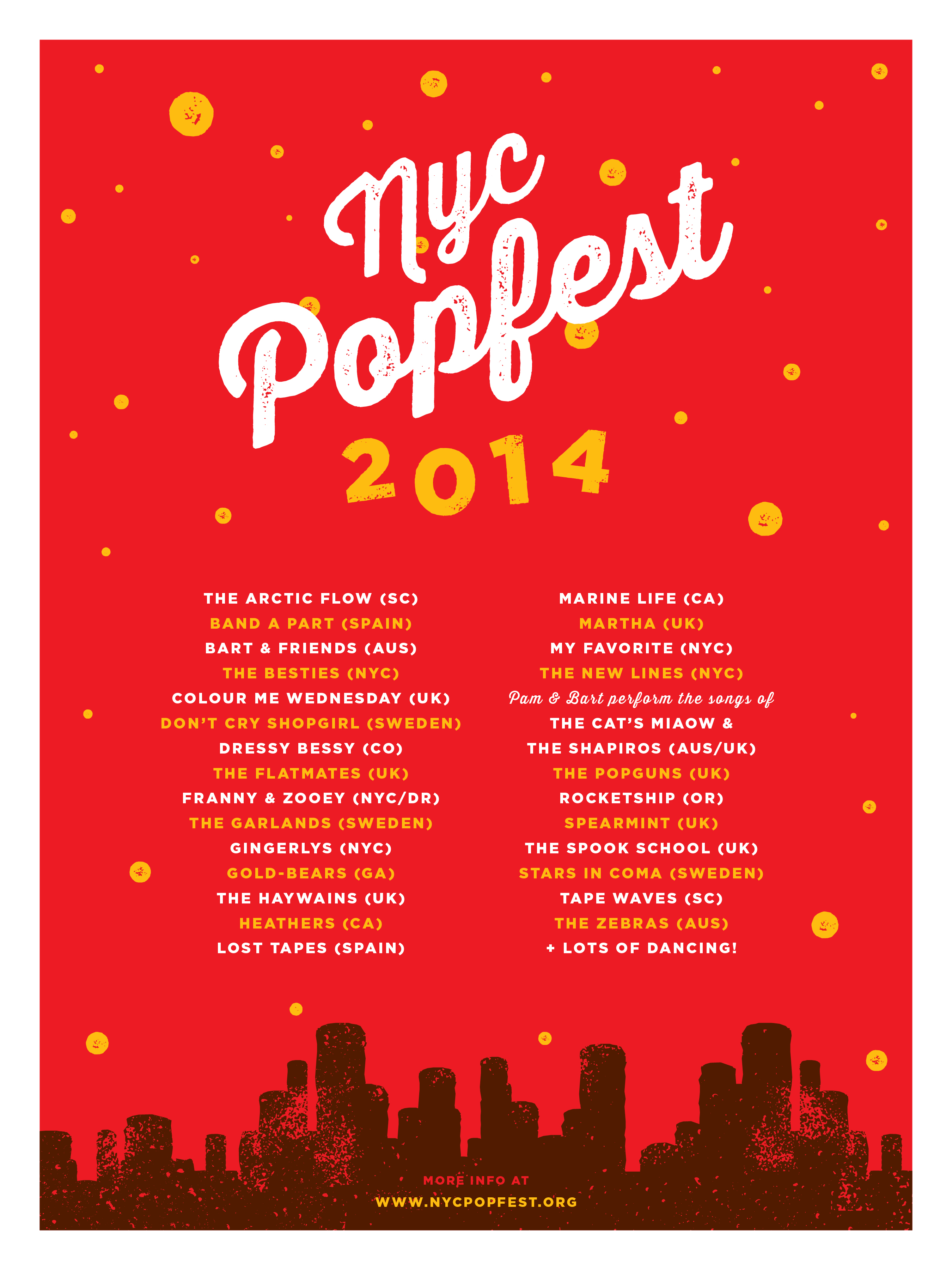 THE ARCTIC FLOW
South Carolina, USA
Brian Hancheck started The Arctic Flow in 2008 as his solo project to write shoegazy pop songs about unrequited love and the beach. The Arctic Flow released an EP, a single and a full length on Jacob Graham's (The Drums) Holiday Records in 2009. More singles and EP's followed in the following years on many different labels including Beko, Bubbletone Discos, and others. In 2011, The first CD release As Close To A Kiss As We Will Ever Be was released on Little Treasure Records followed in 2012 by Dreams You'll Never Find on Dufflecoat Records. In 2013, the band's 6th EP, Sunbathing/Stargazing, was released on Shiny Happy Records.



BAND À PART
Madrid, SPAIN
Band À Part consists of Javi Román and Coral Rodriguez. Influenced by the Nouvelle Vague of Godard and Gainsbourg, but also by J. D. Salinger and the twee-pop of Sarah Records, and by Stereolab, Beach Boys and The Love Generation, the grabbed their guitars, melodies, and xylophones, and threw themselves into songwriting in 2006.
Inquisitive and self-sufficient, not only do they record songs in their own studio, but Javi and Coral have a very strong visual aspect to their music that shows up both in the graphic design of their singles as well as in their own videos, which they direct and produce themselves in the "Band À Part" Laboratory".



BART & FRIENDS
Melbourne, AUSTRALIA
Bart and Friends consists of Bart Cummings, Mark Monnone, Louis Richter, Jeremy Cole and alternate vocalists Pam Berry or Scott Stevens. You may recognize some of them from prior lives in quality pop acts The Cat's Miaow, Hydroplane, The Lucksmiths, Mid State Orange, Pencil Tin, The Pines, The Shapiros, Summer Cats and The Zebras, among others.



THE BESTIES
Brookly, NEW YORK
The Besties came together in 2004 sort of by accident, when an inherited organ became the catalyst for songwriting collaborations between new Florida-to-Brooklyn transplants Marisa Bergquist and Kelly Waldrop, lifelong friends who - despite a shared upbringing in the fist-pumping Florida punk scene - somehow never really thought about playing music together. Their earliest songs featured spot-on hooks and harmonies, but most importantly, an uncommon musical chemistry. Rikky Walsh's catchy guitar playing was the perfect addition to the band and the three recorded a well-received album of these early songs against a drum machine, released by Skipping Stones Records in early 2006.
Seeking a sound that better expressed their punk and power pop aesthetic, drummer Frank Korn was sought out to help give some "cojones" to the Besties' newer songs, which were rapidly progressing in complexity. Bolstered by the relative success of the first album and subsequent sold-out 7" release (on Hugpatch Records in early 2007), The Besties entered a period of day-job-quitting intensity. They emerged a tighter, spunkier live band but held on tight to their early emphasis on melody. Months of touring in the U.S. and Europe sharpened their skills and instincts, and with that momentum they went into the studio to record The Bone Valley Deposit 7" and a second full-length album "Home Free"- slated for release Nov. 4 on Hugpatch Records - that more accurately captured their live sound. The result is an album of catchy, well-crafted pop songs played with the energy, enthusiasm and spunk of a teenage garage-punk band.


COLOUR ME WEDNESDAY
West London, UK
Colour Me Wednesday are a four piece DIY punk/indie pop band based in West London fronted by the Doveton sisters on vocals and guitar and backed up rhythmically by Sam Brackley (drums) and Carmela Pietrangelo (bass). Their long-awaited debut album 'I thought it was morning' was released on Discount Horse records over summer 2013 followed by a successful UK tour. Lyrically, the band touch on politics, social frustration, sexism, growing up and relationships which is expressed using catchy hooks, harmonies and gang vocals.



DON'T CRY SHOPGIRL
Stockholm, SWEDEN
Don't Cry Shopgirl is a pop duo from Stockholm, Sweden, consisting of John Svensson and Astrid Wiezell. The band formed in May 2013 after meeting on the subway. After exchanging song ideas over the internet, John's love for drum machines and distorted guitars paired with Astrid's lyrics and shimmering vocal melodies became the starting point for Don't Cry Shopgirl.



DRESSY BESSY
Denver, COLORADO
Dressy Bessy is an indie rock band from Denver, Colorado, associated with the Elephant Six Collective. Guitarist John Hill also plays with The Apples in Stereo. Lead vocalist/guitarist Tammy Ealom formed the band with drummer Darren Albert and guitarist turned bassist Rob Greene in 1996. The name was taken from a popular Playskool doll of the 1970s. Hill joined around the time they started recording. They released two singles and an EP in 1997-98 and licensed songs to some compilation albums. Dressy Bessy's first full-length release Pink Hearts, Yellow Moons (1999) was a mixture of beat group drums, infectious songs, and the odd burst of harmonium. Further releases include California EP (2000), Sound Go Round (2002), and 2003's Dressy Bessy, which incorporated a harder guitar sound. 2003 also brought the compilation Little Music: Singles 1997-2002. These albums were initially released on Kindercore Records of Athens, Georgia. Their songs "If You Should Try to Kiss Her" and "Just Like Henry" were featured in the 1999 indie film But I'm A Cheerleader. In late 2004, drummer Darren Albert left the band and was replaced in 2005 by Craig Gilbert. Later that year, the band signed to Transdreamer Records and recorded their fourth album, Electrified, which was released in June 2005. The band released HOLLERandSTOMP, on September 16, 2008.



THE FLATMATES
Bristol, UK
They're back!
The Flatmates were formed in 1985 in Bristol, UK, in the white heat of what has become known to historians as the C86 movement or 'The Scene In-Between' - their simple aim to make classic pop tunes which combine the cool and charm of The Ramones and The Ronettes. In the late 80s they released five singles on guitarist Martin Whitehead's Subway Organization label, all of which dented the UK indie charts of the day, two of them also reaching the hallowed ground of DJ John Peel's annual listeners' chart the Festive 50.
While contemporaries went on to find a degree of fame and fortune, The Flatmates never got the chance to record that classic album they knew was in them, and went their separate ways in 1989.
In 2013 the band returned with a new line-up, a new single, a select run of UK gigs, and an ever-growing confidence - Original members Martin and Rocker were joined by Swedish lead singer Lisa, Bassist Verity, and drummer Brian. The live set went down very well around the UK, combining a few old classics with some very hot new material, including the single "You Held My Heart", released on Bristol's own Archdeacon Of Pop label. In November they played their biggest gig to date, to 2,000 people at London, Shepherds Bush Empire in support of The Wedding Present.
During the first few months of 2014 the band are taking time out from gigging to finally record that classic debut album, only 28 years in the making! Expect a slew of original new songs, with a release date in the Summer. In the meantime the band have a new single coming out on Italian label Astro Girl in March, featuring a brace of cover versions.
More UK gigs are planned for April, and we can now announce that in May the band will be playing their first ever US dates, including the NYC Popfest on Friday May 30th.
https://www.facebook.com/TheFlatmatesOfficial



FRANNY & ZOOEY
Brooklyn, NEW YORK / Santo Domingo, DOMINICAN REPUBLIC
Franny & Zooey is the name behind Juan Julio Peña and Victoria Linares, two close friends that decided to form a band in the sizzling summer of the 2012 in the Dominican Republic. The band is heavily influenced by 60's pop, shoegazing melodies of the 90's and with a tender touch of surf rock rhythms.



THE GARLANDS
Stockholm, SWEDEN
Roger Gunnarsson (Nixon, Cloetta Paris, and Shelflife alumni Free Loan Investments) formed the group with Christin Wolderth as an bedroom recording project back in 2007. They released numerous tracks together in this format on Cloudberry, Cosy, and Atomic Beat Records. In 2010, the project took to the stage with a live line-up adding friends Einar Ekstroem (Electric Guitar), Thomas Aherne (Electric Guitar), Maria Grum (Bass Guitar) and Gustaf Jonstam (Drums). They also released a 7" single "You'll Never Notice Me" on UK label Big Pink Cake. The success of the live line-up prompted recording the entire album together in the studio with Roger taking on a more Brian Wilson-esque role as co-writer/producer with Christin.
The result is pure, breathtaking indie pop perfection from beginning to end! Jangly guitar hooks, head-bobbing rhythms, lovely vocal harmonies -- it's all here! A melting pot of late 80s UK female-fronted guitar pop, celebrating their influences without ever sounding trivial or unoriginal. They are truly masters of the two minute pop song, with only one track ever going past the three minute mark. This has allowed for a special album pressing entirely at 45 rpm.
The Garlands have played a number of times in the UK, including the Indietracks festival, and throughout Europe as part of the Madrid and Limoges Popfest line-ups.
https://www.facebook.com/pages/The-Garlands/111335622217366



GINGERLYS
Brooklyn, NEW YORK
Guitarist Matt Richards began sharing acoustic demos of his strummy pop songs to his fellow bandmates and the group began formulating Matt's songs together in his NY basement. Vocalist and keyboardist Maria Garnica brought life to the rough demos with her melody laden hooks and dreamy vocals. Colin O'Neill provided vibrant guitar riffs and Kevin Doxsey was behind the kit and on bass and drummer Brian Alvarez joined later that summer. After self-releasing the songs as digital singles, the band signed to Shelflife Records and will be releasing the material on their debut 7" Jumprope.



GOLD-BEARS
Atlanta, GEORGIA
Gold-Bears formed in 2010 when Jeremy Underwood recruited a few friends to play songs he'd stockpiled since the demise of his former band, Plastic Mastery (555 Recordings/Magic Marker Records). The band quickly released a smashing 7" on Magic Marker Records, recalling the immediacy and urgency of Boyracer or The Wedding Present melding with the pop sensibilities of Slumberland contemporaries like Summer Cats and The Pains of Being Pure at Heart. They expanded their sound a bit on their next release (a 4-song 7" on Miami-based indie pop imprint Cloudberry Records) by stripping away some of the fuzz on one song and adding drone elements a la the Microphones to another while still maintaining their indie punk roots.



THE HAYWAINS
Bristol, UK
Formed way back in 1988, riotous jangle-pop veterans The Haywains are currently engaged on an 18 month reunion schedule during 2013-14 to celebrate the band's 25th Anniversary. With four original members on board, the reunion line-up have embarked on shows in the UK and Europe, and now make their first ever US appearance, here at NYC Popfest!
Part of the Bristol area's fiercely independent DIY explosion of the late '80's, the band notched up a prolific recording back catalogue for emerging labels of the time including singles for Elefant Records (Spain), Four Letter Words (USA) and three albums for Vinyl Japan.
The band's reunion isn't just about nostalgia though. A brand new single is released by Cloudberry Records on the weekend of NYC Popfest! "Get On Board With The Haywains" is the band's seventh single, and closely follows the current retrospective album "A37 Revisited".
Expect a punk-pop frenzy of hits old and new, plus of course, singer Jeremy's much loved on-stage banter!



HEATHERS
Los Angeles, CALIFORNIA
Heathers are the self-styled guitar pop miserablism trio from Los Angeles consisting of Michael Francis (guitar/vox), Thom Lucero (bass/vox), and Michael Wegener (drums). The band formed in late 2012 and released their first 7" "Teenage Clothes" in September 2013. Their sophomore 7" will follow in late March.



LOST TAPES
Valencia, SPAIN
Two piece band, pop, noise, melodies, strong visuals, guitars, distorsions, loops, shoegaze, band from Barcelona/Valencia, Spain.



MARINE LIFE
San Francisco, CALIFORNIA
Musical adventures of sound, sensibilities, friendship, melodies, pop images of blues & greens. Des-Terry-Rob-Rex-Marvin set sail. Marine Life's debut single coming out soon on the legendary pop label Elefant Records!



MARTHA
Durham, UK
Martha are a DIY pop-punk band from Durham, UK. They are made up of members of Onsind, Fashanu, and No Ditching. Formed in a cellar in 2011 by siblings Naomi [bass, vocals] and Nathan Griffin [drums, vocals] with J. Cairns [guitar, vocals] and Daniel Ellis [guitar, vocals], Martha have become a staple of the UK DIY pop scene.



MY FAVORITE
New York, NEW YORK
My Favorite were true New York cult heroes, elusive and enigmatic stars of a secret history. They crawled from the suburbs of Long Island to the battered boroughs of New York City, all the while managing to belong nowhere. They created pop songs that feel like films, casting as heroes the misfits, hipsters and monsters of modern life. Beneath shimmering walls of guitars, synthesizers, and melodicas, beat the burning heart of a new wave dream gone wrong. They proposed that our age is worth remembering. They redeemed us by caring. Closer in spirit and methodology to bands like The Velvet Underground, The Go-Betweens, Yo La Tengo, The Magnetic Fields, and Belle & Sebastian -- My Favorite were sparks in a vacuum, originals in an era where originality is impossible. Pop saboteurs making music because they insanely believed their stories were worth telling, and the sounds of last century's end will haunt us long into this one. They were the next link in the glittering chain of outsider music, a desperate pastiche created out of dreams.



THE NEW LINES
Brooklyn, NEW YORK
Just as a surrealist painter depicts normal, everyday objects in a new light, New York City-based band The New Lines attempts to do the same with pop music. Like such artists, by tweaking old ideas to become "new and alien landscapes" approached afresh as an outsider, Hewson Chen (vocals, guitar), Rene Dennis (keyboards) and Mark Di Donna (bass), create music with distinct escapist and surrealist qualities that is heavily rooted in late '60s and early '70s psychedelic pop and rock, while still managing to sound fresh and unique. Vintage instruments flesh out the band's full, multi-layered sound, thanks to the extreme versatility of Dennis' revered vintage organ, which was unearthed from a basement and came to be a staple of the band's signature retro sound.



Pam & Bart perform as THE CAT'S MIAOW & THE SHAPIROS
AUSTRALIA and UK
The Shapiros were formed in 1994 by Bart Cummings and Pam Berry. Despite the band's brief existence—formed on September 7th, 1994 and broken up by the end of the month—they released 4 singles and 2 compilation tracks, all produced by Velocity Girl's Archie Moore. All of their work is available on a compilation CD.
The Australian indie-pop band the Cat's Miaow formed in May, 1992; a quartet composed of members of the incestuous Melbourne music scene, they featured vocalist Kerrie (formerly of The Beat Poets and Tra La La), guitarist Bart (from Blairmailer and Girl Of The World), bassist Andrew (also of Blairmailer, as well as The Ampersands) and drummer Cameron (ex-Girl of the World). Recording on a primitive four-track, over the next two years the Cat's Miaow issued a series of cassettes on the small Aussie label Toytown, including Little Baby Sour Puss, Pet Sounds, the excellent From My Window and How Did Everything Get So Fucked Up?; finally, in 1996 the U.S. label Bus Stop issued A Kiss and a Cuddle, a compilation of the cassettes' best tracks. Songs for Girls to Sing — another collection of EPs, live tracks and unissued material including "Shoot the Moon," taken from a split single with Stereolab — followed in 1997. After a handful of ambient-influenced recordings issued under the name Hydroplane, in 1999 the Cat's Miaow returned with The Long Goodbye, their entry in Darla Records' continuing "Bliss Out" series.



THE POPGUNS
Brighton, UK
The Popguns formed in Brighton in the late 1980's and released a number of singles and albums into the mid-1990's, achieving indie chart success and recording two John Peel sessions along the way.
Now they are back with their heady blend of guitar pop and beautifully crafted lyrics. Last year the band played a storming set at Cherry Red's 'Scared To Get Happy' festival, and this year kicks off with a headline slot in Paris, followed by a 'special guest' slot with The Primitives in London.
Reformed, reloaded and revitalised, the 'Guns' promise an evening of indie rock classics - soaring vocals, unforgettable melodies, beautiful harmonies, rock solid beats, melodic basslines, sumptuous riffs, thrashing power chords.



ROCKETSHIP
Sacramento, CALIFORNIA
Rocketship are one those rare groups who don't release a lot of records, but boy do they count when they do! Back when we released "A Certain Smile, A Certain Sadness" in January 1996, it had a huge impact on the international indie-pop scene. Their Hey, Hey Girl single on Bus Stop was a complete killer, and everybody was dying to see what would come next. Their two tracks on our Why Popstars Can't Dance compilation further upped the stakes - could their album possibly be as good as we would hope? The answer was an emphatic "YES!" Dustin, Heidi, Verna and Jim outdid themselves on this gorgeous record, blending their patented swoony pop confections with spacey interludes and a judicious use of repetition. Every track is perfect little gem, sparkling in it's completeness. From the breathless rush of "I Love You Like The Way I Used To Do" to the sublime "Kisses Are Always Promises" to the ineffably sad "Friendships and Love," this amazing record continues to astonish with it's melodic invention, it's effortless mastery of the pop idiom. No pop fan should miss this one, and no collection is complete without it.



SPEARMINT
London, UK
Spearmint is a London-based indie pop band, founded in 1995 from the ashes of a project called 'Laverne and Shirlie'. Their sound can be said to be classic British guitar pop, with some northern soul influences.
The founding members were Shirley Lee (lead vocals, guitar), Simon Calnan (vocals, keyboards), Martin Talbot (bass) and Ronan Larvor (drums). Talbot left soon afterward, to be replaced by James Parsons. Richard 'Dickon' Edwards later ended up joining as second guitarist, though leaving in 2000 to form Fosca. Parsons then took over second guitar duties, with Andy Lewis joining on bass.
Spearmint have released eight albums and many singles, all on their own label, hitBack, having a minor success with 1997's Sweeping The Nation and A Trip Into Space, both of which grazed the UK Top 75. We're Going Out received some airplay on BBC Radio 1 and was remixed by long-time Pet Shop Boys prodcuer Stephen Hague.



THE SPOOK SCHOOL
Edinburgh, Scotland, UK
Inspired by the post-punk-pop of The Buzzcocks, Lou Reed's 'Transformer' and the films of Buster Keaton, with a dash of 60s pop for good measure, The Spook School are Nye Todd on guitar with Adam Todd also on guitar and Anna Cory on bass, not forgetting Niall McCamley who plays drums, tells jokes and takes his clothes off. They all sing and shout and write the music together. There is no leader and no 'frontperson'. They're a band. With Nye identifying as trans, the band explore gender, sexuality and queer issues with stories that do not shy away from being absurd and silly. Gender is something more fluid than the given binary of male/female. There is also a strength in dressing up, a liberation of mind and body, a chance to smile, be silly, be yourself, be someone else, be anything at least for a little while. As the band explain; "We want to liberate the listener by lubricating their ears with noisy pop songs about coming to terms with gender identity and realising how silly the world is. We like to have fun, but we also really care about the things we sing and write music about. I think if anyone was to ever listen to one of our songs and think "hey, I've felt like that!" then that would make us very happy indeed."
The band started playing together because Nye and Adam (siblings) had written a few songs and fancied playing them with a full band. Searching around the city of Edinburgh they found Anna hiding amongst a pile of The Beatles records and Monty Python DVDs. They managed to coax her out of her pile and into the band using a bass guitar as bait. Niall joined on the proviso he would be allowed take his top off at any moment and he would be allowed to attempt to seduce the crowd during gigs. In response the other three, unhappy with his abundance of height, made him agree to sit behind the drums so The Spook School could successfully be equidistant from all ceilings. None of them even knew how to play their instruments or write songs. They still don't really, although that's now become important in terms of how they sound. They don't really "write music", they just try and make noises that sound nice and exciting. They're four friends on an adventure.
The name came from Adam's love affair with architecture. Around 1920 a group of Glasgow artists led by Charles Rennie Mackintosh were criticised for their work being too gothic. This led critics to make fun of them by calling them The Spook School. Nowadays of course they're heralded as one of the greatest art collectives to ever come out of Scotland. For that reason the band don't really deserve to appropriate their name at all, but they like the idea of taking something mean and making it awesome, of something that was at the time ridiculed and considered 'weird' later being recognised as brilliant and revolutionary.



STARS IN COMA
Malmö, SWEDEN
Since its formation in 2006, Swedish indie pop band Stars in Coma has released a prolific stream of albums and EPs, and toured several countries in Europe. The band's home-cooked productions draw inspiration from a variety of genres, including guitar rock, disco, funk and semi-electronic pop. They share kinship with weirdo-poppers such as of Montreal and Ariel Pink, but it is also possible to pick up melodious echoes from British bands Belle & Sebastian and The Smiths.
US indie music site Obscure Sound called the band's sound a mixture between "ABBA's orchestra-laden and punchy pop to the idiosyncrasies of contemporary Swedish songwriters, like Jens Lekman and Eric Berglund," while the She Turns the Tables music blog described them as a combination of "surf rock era Beatles, low fi bedroom ballad of Montreal, extraterrestrial psych rock Flaming Lips, and at times dropping a synth line you'd expect from the likes of MGMT".



TAPE WAVES
Charleston, SOUTH CAROLINA
Tape Waves are great example of the magic of the modern music industry and accessibility of music.
We live in an age where a Charleston, SC duo with a beautifully recorded bedroom EP can reach ears all over the world through multiple websites, and have their s/t EP released by UK label Box Bedroom Rebels, while only having played a small handful of shows.
Tape Waves, made up of Kim Hart and Jarod Weldin, play dreamy indie rock that melts through your speakers . With delicate vocals that blanket jangly guitar lines that bounce back and forth, the duo captures the happiness of a deep day-dreaming session on the beach. The moments where you lose yourself in the moment, listening to the steady crashing of waves crashing on the beach.



THE ZEBRAS
Melbourne, AUSTRALIA
On first blush, this sounds like the latest gorgeous, jangly guitar pop record from somewhere north of Manchester. Belle and Sebastian meet the better moments of the Lightning Seeds, with Aztec Camera's Roddy Frame strumming away. But on closer listening there's a certain local twang to both the voices and the music on the second production from this unheralded Brisbane six-piece. There's nary a foot, or a note, wrong on this, and the Zebras can lay claim to being, if not the heirs, then at least the love child of the Go-Betweens. Loaded with hooks and soaked with harmonies, Worry A Lot is the perfect laid-back lovely thing to listen to during this earliest of summers. The stripped back production suits the sound and these small but perfectly formed songs hit the spot in a quite delightful way. If there's a smidgen of a quibble it's that some of the tracks are too brief, with the whole effort clocking in at a sharp 35 minutes. Still nothing quite like wanting more, is there? - The Australian